Belfast City Centre Defibrillator & CPR Training
Following our launch last month, we are proud to provide Cardiopulmonary Resuscitation (CPR) and Automated External Defibrillation (AED) training to Belfast city centre businesses, in partnership with Belfast City Centre Management, so workers can learn more about basic life support and use our integrated defibrillators effectively to save a life in the event of cardiac arrest.
Every single one of the Pulse Smart Hubs we install in the city centre is equipped with life-saving Public Access Defibrillators (PADs) as standard. Although the PADs can be used without training, we are raising awareness of the ease of use to increase confidence amongst the local community. As part of our community-led, collaborative approach, we are committed to providing training to businesses based in the area. This will provide local businesses with a comprehensive understanding that will save lives.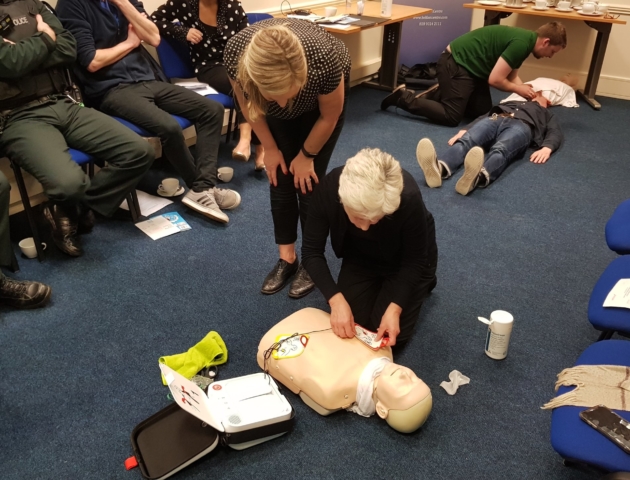 Local businesses who attended include: Irish Tour Tickets, Subway, HMV, Argos, Urban Outfitters, Superdrug, Carphone Warehouse and Bernard Campbell & Solicitors. All attendees received a Nationally Accredited AED (Automated External Defibrillators) user certificate.
We also collaborated with Northern Ireland Ambulance Service (NIAS) for the project. Stephanie Leckey, Community Resuscitation Lead, NIAS, said: "In Northern Ireland in 2018, there were over 1,400 out-of-hospital cardiac arrests, and that's the situation where a defibrillator is required. The chances of survival are a lot higher, so having Public Access Defibrillators available in every Pulse Smart Hub across the city centre will help to save a life."
We integrate PADs so if someone experiences an 'out-of-hospital sudden cardiac arrest' (OHSCA) nearby, the likelihood of survival greatly increases from 9% to 59%. It is fitting that the first Pulse Smart Hub featuring a defibrillator should be installed in Belfast, as the inventor of this life-saving piece of equipment, Professor James Francis Pantridge, known worldwide as the "Father of Emergency Medicine" began his medical career at Belfast's very own Queen's University.